By Puji Sherer, VP Marketing and Chief Color Nerd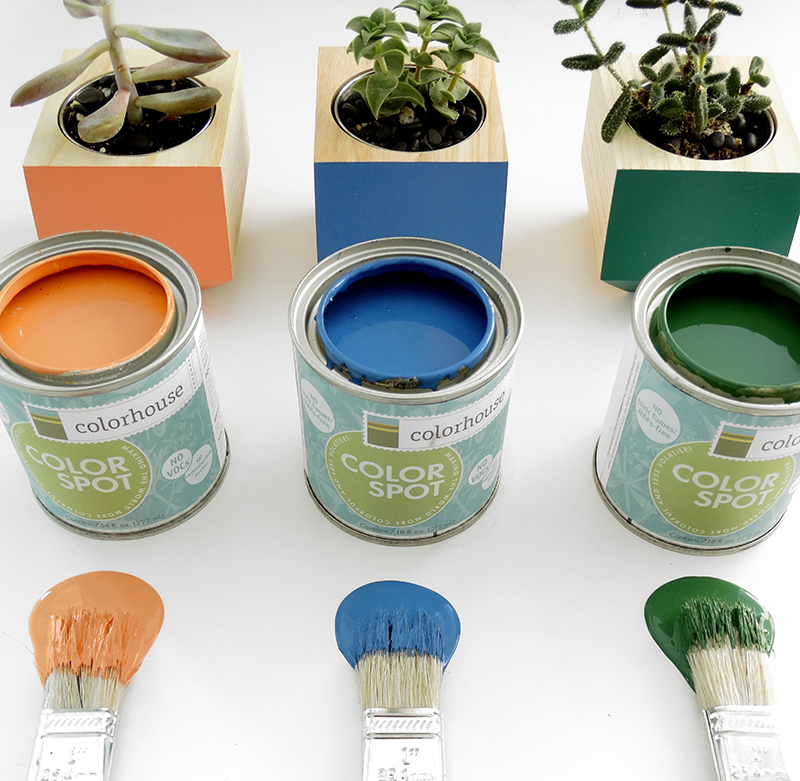 When our friends at Revolution Design House approached Colorhouse to make limited edition colors- my initial reaction was YES! OF COURSE! FUN! Revolution Design House was already using our premium paint as a finish on their handcrafted planters, but they wanted new colors for their pieces. This project gave me the opportunity to create a special palette designed just for them.
At Colorhouse, we design colors for architecture, to be backdrops for living. I start the process of making new colors by putting together mood boards that capture the essence of the hues I want to create. Our interior paint colors tend to be a bit more muted than those you see on a smaller scale in the home, like in textiles and furnishings. However, Revolution Design House needed a color pop on their planters to make a WOW! statement. We had to meet in the middle and create colors that would work on both wood and walls.
The most important element to take into consideration in the development of this mini palette is the color of the wood used to make the planters. For this limited edition collection, Revolution Design House chose ash. Ash has pink and grey undertones, which harmonizes well with red, green,and blue.
I began creating colors on the lighter, less saturated side for all 3 hues in the RDH Collection: Coral, Cobalt, and Emerald. As Joe Gibson, Revolution Design House cofounder, and I painted these hues on the sidecar planters, we would evaluate 3 things: how each color looked against the wood, how each color popped on the planter, and how each color translated to the wall. To determine how a color will look on a wall, we made a drawdown of each sample. Drawdowns are used in architectural specifications for paint. Similar to a silk screen, a thin layer of paint is pulled down a piece of cardstock with a custom bar. When dry, approximately 1.5 mils (.0015″) of paint is left on the sheet. This creates an accurate sample of color and sheen in a size that is big enough to visualize scale.
After a few rounds of revisions (3 for Coral, 5 for Cobalt, and 9 for Emerald), we arrived at the RDH Collection .01 – a contemporary combination of colors designed to go from wood to wall. These colors are available for a limited time in Colorhouse interior paint and as a finish for Revolution Design House Sidecar planters.